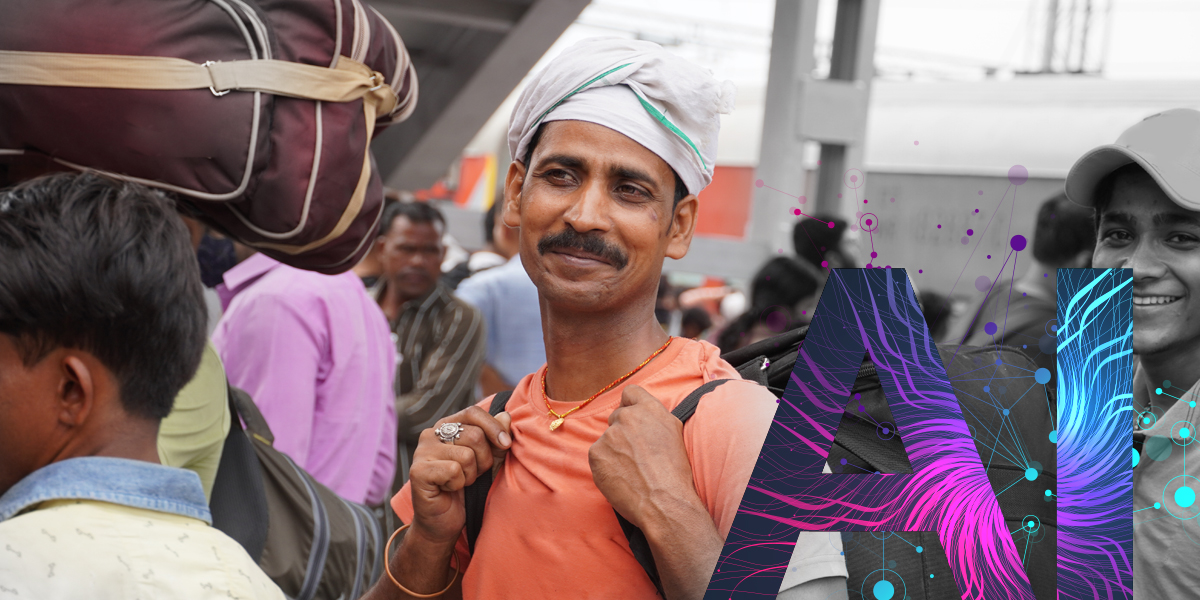 As COVID-19 started raising its fang in early 2020, a 21-day lockdown was imposed in the nation to restrict the spread of infection in the country. With the businesses shut and markets closed, millions of migrant workers lost their jobs. With limited access to cash and digital banking services, they struggled to send money back home, which in usual days was done mostly through informal personal networks. Due to the staggered movement of people from cities to villages, the households of migrant workers suffered as they did not have money even to buy the essentials. The COVID-19 imposed lockdown brought into the spotlight the growing digital divide in the nation which exacerbated the financial exclusion of migrant workers and other marginalized communities.
Pavan Ravishankar, Prof. Balaraman Ravindran, and Prof. Sudarsan Padmanabhan from IIT Madras propose an AI-based solution to facilitate the digital financial inclusion of migrant workers. The team explains why the digital financial inclusion of migrant workers is important from a social justice angle. The study highlights that augmenting AI-assistant to existing ATMs installed in bank and post offices will improve digital financial inclusion, bring accountability, ensure security, build trust, and protect privacy in the process of empowering women and marginalized communities in India. An AI-enabled system that converses with workers in their vernacular language can ease the use of operations for marginalized communities. Further, the study suggests a way forward to make the migrant workers "Atma Nirbhar" in carrying out their financial transactions.
Can AI facilitate the digital financial inclusion of migrant workers?
Motivation
Thousands of youth shift their base from villages to metropolitan cities every year to earn livelihood and support their families back home. These millions of migrant workers, who now constitute a significant portion of a city's population, are excluded from public amenities such as civil supplies, vehicle licenses, banking, healthcare, insurance, education, housing, etc. These factors altogether account for the poor condition of migrant workers in otherwise cosmopolitan cities.
The plight of migrant workers became evident during the national lockdown imposed to restrict the spread of COVID-19 infection in March 2020. As the nation came to a screeching halt, these millions lost their jobs and it became difficult for them to manage their finances. Migrant workers, in particular, faced problems due to their inability to use the digital mode of money transactions, making them unable to provide or receive monetary help from their families back in villages. Dejected, the workers started marching toward their villages on a long journey of several miles.
To understand the digital financial inclusion problem of migrant workers closely and also contemplate whether AI interfaces can be a solution to this problem, an elaborate study was carried out by Pavan Ravishankar, Prof. Balaraman Ravindran, and Prof. Sudarsan Padmanabhan from IIT Madras.
COVID-19 imposed lockdown brought into light the consequences of digital financial exclusion. The preferred mode of money transfer for migrant workers has remained Hawala couriers, friends, and relatives and therefore they struggled to transfer money and receive financial aid during the pandemic. Due to this, close to 60% of migrant workers could not receive emergency financial aid and 31% did not receive rations. As per the Centre for Digital Financial Inclusion (CDFI), only 6% of migrant workers use mobile phones to send money home and only 9% of their families back home use mobile phones to receive the transferred money. The study by IIT Madras discusses the major bottlenecks for the digital financial inclusion of migrant workers.
Firstly, the lack of access to technology and services was a major hindrance. Of all the migrant workers who owned a mobile phone, only 28% had smartphones and 71% have a feature phone. Secondly, poor education and lack of awareness were major factors due to which migrant workers are unable to make digital payments. It was found that although 28% of workers did have a smartphone, they were using it for watching videos and for sending messages but have not shifted to making payments through the mobile route. Also, only 27% of recipients with a primary level of education were aware of cashless transactions compared to 70% of recipients with graduate-level education or more.
The study justifies the need to facilitate digital financial inclusion using a gamet of social justice principles such as individual rights, capability approach, horizontal or group inequality, the bottom of the pyramid, class inequality, and social democracy.
Enabling digital financial inclusion using AI
The study proposes that augmenting an AI assistant to existing ATMs installed in banks and post offices will help in the financial inclusion of deprived communities. AI-enabled systems can be operated using multiple modalities such as speech, touch, or visuals. Further, conversational AI that converses in the vernacular language of the user can ease the use of operations for the workers. The AI assistant can ask the user the amount to be transferred and to whom and other necessary details in their vernacular language to carry out the process of money transfer.
The study also suggests that apart from AI-enabled systems in ATMs and post offices, an app-based equivalent of the AI assistant, which can be operated through mobile phones, can further facilitate digital transactions. Also, the use of voice biometrics and voice passwords can relax the need for an Aadhaar card or ATM Cards for using digital services.
Benefits
An AI-enabled interface for digital money transactions offers a host of benefits to not only migrant workers but other deprived communities as well. People without access to smartphones can enter AI-assisted ATMs and make their financial transactions with ease. Augmenting AI in public institutions has the potential to instill trust in digital transactions. The use of voice biometrics and voice passwords will ensure security, ultimately empowering marginalized communities.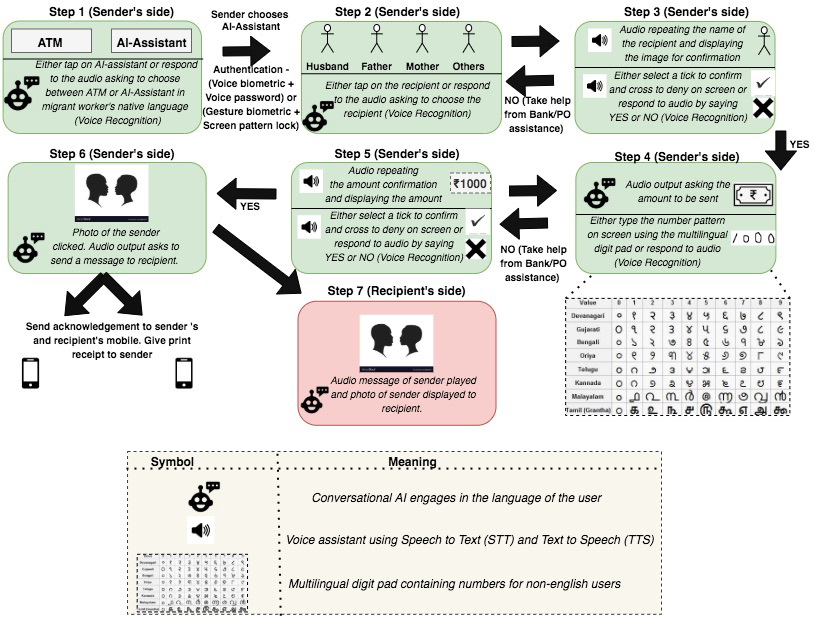 The process of financial transaction using an AI-assistant augmented to ATMs
All in all, an AI-enabled digital financial interface will make the marginalized communities independent ultimately fulfilling the vision of "Atma Nirbhar Bharat"
The work has recently been published in the Journal of Information Technology Case and Application Research.
Article
(https://www.tandfonline.com/doi/abs/10.1080/15228053.2023.2199012?journalCode=utca20)