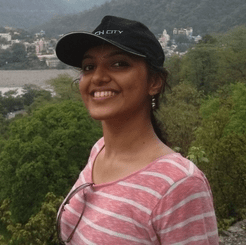 Over the years, doctors and researchers have realised that the "one size fits all" approach is not the right way to treat cancer patients as the disease can be caused by a myriad of internal and external factors. This thought is strengthened by the fact that chemotherapy, radiation therapy etc. which are employed for the treatment of cancer patients, have shown a range of side effects and has affected the patient's recovery from the disease.  Malvika Sudhakar, a PhD Scholar at IIT Madras, also believes that personalized treatment is a way to go for cancer treatment and is therefore developing ways to find out the genetic basis of cancer in an individual so that such information can be employed to prescribe a personalized treatment regimen. Let's get to know her journey and research more!
Born in Bengaluru to a banker dad and an auditor mom, Malvika spent her childhood in several places such as Bareily, Moradabad, and Mumbai due to the transferable nature of her father's job. It was only when she reached middle school that the family settled in Navi Mumbai as her father took early retirement to start an IT Company. Both her parents knew the ample scope of computers and programming and therefore, the couple got their kids a computer and taught them programming before it even began in school. Malvika remembers herself as an average student who was interested equally in academics and extra-curricular activities. She recollects how she loved doing science experiments and was fascinated by the scope of biotechnology after she visited Reliance Life Sciences company on a school tour. The young girl had a good grasp of programming and was passionate about biology and therefore decided to pursue B.Tech in Bioinformatics from Padmashree DY Patil University, Mumbai. However, after completing her degree she realized that though she has ample knowledge of programming aspects, she needs to further strengthen her base in biology. She, therefore, decided to pursue a program in M. E. in Biotechnology from BITS Pilani, Goa. It was during her master's that she got exposed to research and visited IIT Madras to do an experiment for her master's project. She remembers that she quite liked the laboratories and research ambience at IIT Madras and wished that she gets a chance to do her PhD there. Fortunately, her wish was granted as she was selected for an interdisciplinary PhD program at IIT Madras. 
Here at IIT Madras, she is a part of the Computational Systems Biology Laboratory (CSBL) led by Dr Karthik Raman and SENAI by Prof. Raghunathan Rengaswamy, who have both guided her in the area of cancer genomics. She loves the interdisciplinary culture and IBSE meetings at IIT Madras which have widened her thoughts and horizons. During her stay at IIT Madras, she has developed some useful models and tools for cancer research. Some of these include the cTaG model that identifies cancer-causing genes and PIVOT which is an AI-based tool that uses genomic and protein data to predict genes that are responsible for causing cancer in an individual. She has also developed BinOpt, a model that assigns gene contribution to cancer types using minimal mutation information in the form of binary data..
Malvika feels that AI can help in making strides in biology however in order to ensure that the predictions made by AI is used in diagnosis, it is important that the doctors have some degree of knowledge on AI and the way it works.
When her mind is not occupied in research, Malvika loves to read books and relishes doing some art work. She advises young students to only go for PhD, if they like answering questions by researching in depth and are ready to face challenges!