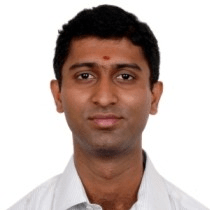 Why is everyone heading in the same direction? Is there an accident ahead? When will I reach home? Why can't cars fly? These are some of the thoughts that cross our minds while stuck in a traffic jam. As time slowly glides, we are nothing but full of frustration. For Dr. Gitakrishnan Ramadurai, however, this is an exciting opportunity! An opportunity to understand the complex, heterogeneous nature of Indian traffic and thinking of the ways artificial intelligence can solve the traffic congestion issues of India.
In this era, where time is money, the traffic congestion in the four major cities of India (Delhi, Mumbai, Bengaluru and Kolkata) costs Indian economy a whopping sum of 1.47 lakh crores a year. Apart from the economic loss, the traffic congestion adds to the stress in the lives of city dwellers ultimately deteriorating quality of life. Artificial intelligence (AI) holds the promise to transform the transportation sector for better and Dr Gitakrishnan, who is currently Associate Professor at IIT Madras and member of Robert Bosch Centre for Data Science and Artificial Intelligence, is working to harness this power of AI to make Indian traffic smoother and Indian roads safer.
Fueled by his passion for computation and algorithms, Dr Gitakrishnan's interest in the transport sector started while studying B.Tech in Civil Engineering at IIT Roorkee. The future path was pretty clear to him; he wanted to write computer programs and algorithms that eases transport issues. He went to the US for MS and PhD in Transportation Engineering and returned to India in the year 2009 to join as a faculty in the prestigious IIT Madras. On being asked, what better transport can do for India, he says,
"Transport is the backbone of the economy, it can pull people out of poverty by providing them access to markets. At the same time we need to decrease the number of road accidents and associated deaths and use greener and cleaner modes of transport to help India walk on the path of sustainability".
Through his work in the area of sensors, communication, and data modelling, Dr Gitakrishnan and his colleagues have come up with models to predict the traffic in future. Based on their research, they came up with recommendations for traffic management which was shared with state authorities of Tamil Nadu. Dr Gitakrishnan's research group has also been working with state authorities on road safety analysis and audits that have helped reduce the number of road accident fatalities in the last 3-4 years. For Dr Gitakrishnan, this translation of his work into policy and then for the public good is quite satisfying but he believes that the full potential of AI in transport still remains to be unleashed.
Artificial intelligence is already revolutionizing the transport sector. It is being employed by cab services like Ola and Uber to connect passengers to the nearby drivers, to track rides, predict shortest routes, creating shared rides etc. For most of us, this easy and convenient way of hiring cabs is amazing, however, Dr Gitakrishnan feels that this is just the beginning. Use of AI technology in the transportation sector promises to bring a day when there will be no accidents, goods will be delivered through drones, there will be self-driving vehicles and vehicles will fly at different levels from ground to eliminate city traffic congestion and even travel across continents will take just a few hours. Fiction, as it may sound, AI is sure to give wings to the transportation sector!
To know more about his research visit his webpage.